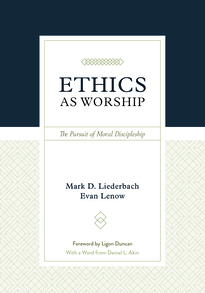 Despite the fact that it has been quiet around here for a while, I have been busy at work with my co-author and mentor, Mark Liederbach, writing our new book, Ethics as Worship. This book explores the biblical and theological foundations of ethics and then applies our system of ethics to numerous issues facing Christians today. Ethics as Worship has been a nearly six-year journey that has pushed us to think, write, and edit as I never have before. I am forever grateful that Mark asked me to join him on this project, and we cannot wait to see the impact this book will have for the Kingdom of God.
It has been a pleasure to partner with P&R Books to see this project to fruition. They have been a superb group of encouragers throughout the process. This is what the publisher has to say:
Ethics as Worship examines the biblical, theological, and philosophical foundations and application of Christian ethics, offering an ethical system that emphasizes the worship of God as motivation, method, and goal of the ethical endeavor. It concludes with an exploration of how worship ought to shape a response to particular ethical topics and issues most relevant in our day: from race, justice, and environmental ethics, to sexuality, reproductive technologies, and other important issues related to life and death.
You can currently pre-order a copy of Ethics as Worship from the publisher or Amazon.